Spinal Injections Overview
The philosophy of the spine care team at Spine Group Alabama is that many patients with back pain or neck pain problems can get better with non-surgical treatment options including: rest; medication; injections that reduce inflammation; or with custom stretches taught by spine therapists that make the back stronger, more flexible and resistant to strain.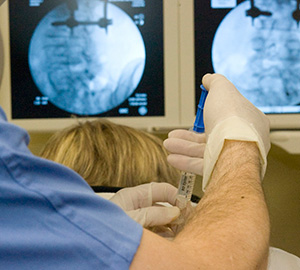 Injection therapy is intended to be a means to an end. The goal is to provide the patient with enough pain relief to bridge from inactivity to physical therapy. By having a stronger, more flexible back or neck you are then more resistant to future back or neck spasms.
If you haven't tried any non-surgical treatment options with your treatment so far, you may resort to spine surgery perhaps too early. In the field of spine, specialists use cortisone injections, epidural steroid injections, trigger point injections and nerve blocks to relieve pain in the spine.
Philosophically, Spine Group Alabama has a conservative approach to the care of patients and encourages non-surgical treatment first.  Within Spine Group Alabama, Dr. Downey and Dr. Cotter specializes in an array of interventional spine procedures that help many patients to relieve symptoms of a herniated disc without the need for spine surgery. This includes spinal injections that reduce inflammation around a nerve root or symptoms related to stenosis or arthritis in facet joints.
When these non-surgical options fail — or if there are emergency symptoms like weakness/numbness in a leg or arm, or loss of bowel/bladder control —  then spine surgery is needed to prevent these emergency symptoms from becoming permanent. 
Injections can be both therapeutic AND diagnostic
At Spine Group Alabama the use of injection therapy accomplishes two very important functions. 
THERAPEUTIC FUNCTION: The first purpose of the spinal injection is to provide a therapeutic benefit to the patient, that is, relief of pain symptoms, or relief of the weakness or numbness in the leg or arm caused by a herniated disc. 
DIAGNOSTIC FUNCTION: The second function is to reveal important diagnostic information to the spine specialist. For instance, if the injection of medication near the nerve root at a certain level of the spine FAILS TO RELIEVE the pain symptom or the weakness caused by the impinged nerve, the spine surgeon learns something very important. One possibility is that the symptoms are coming from a different disc at a different level. This is key, because without this information, a surgeon could operate and remove disc tissue at a level that appears on an MRI to have a herniation, but in fact that herniation is NOT the cause of the patient's symptoms.
If your surgeon did not explore injections, you could be having an unnecessary surgery, or a surgery at the wrong level
There are two worst-care scenarios that injection therapy is designed to prevent:
Prevent a person from having a surgery that wasn't necessary in the first place.
Prevent a surgeon from operating on the wrong disc.
In conclusion, if your spine specialist doesn't at least consider the role of injection therapy in your assessment and treatment, you may be at risk for one of the two worst-case scenarios.

Risks of injections
Risks involved with spinal injections are minimal. Minor superficial infections are reported to occur in approximately 1% of all injections with severe or deep infections occurring in 0.1 to 0.01% of injections. Bleeding is rare, as is nerve damage but either can occur due to direct injury to a blood vessel or nerve. A puncture of the dura during an epidural steroid can occur and is estimated to happen in 1 in 200 procedures. Also, patients who are acutely ill or have an active infection may not be able to have a procedure done.
Important- Patients who are on any blood thinning medications, such as coumadin (warfarin), plavix (clopidogrel), lovenox (heparin) or aspirin may be able to have these procedures but they cannot be done while on these medications. You and your treating physician, as well as your primary care doctor or cardiologist, will help decide whether or not it is safe to come off of your blood thinners to have an injection.
[Top]